With the advent of the knowledge-based economy Ethos is pleased to introduce the SkillsMatrix System - a strategic approach to identifying, developing, and utilising your organisation's knowledge and employees' skills. Contact us now for more information.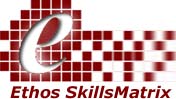 ---
[ Products | Services | Company Profile | Contact Us | Home ]
---


Copyright © 2001-2010 Ethos Software Architecture Limited. All rights reserved.
Last updated 8 March 2010
Maintenance by BizLinks.